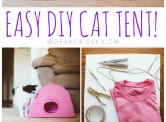 This post is part of a series brought to you by Temptations Cat Treats, part of Mars Petcare, who is committed to "a better world for pets.
I feel very lucky to live close enough to my parents that I can spend a lot of time at their house. We spend so much time there, in fact, that I sort of feel like their two cats, Punkin and Lucy, are my cats too!
Lucy, in particular, is such an active cat who loves to play. Her favorite pastimes are batting milk rings around the kitchen, chasing the laser pointer up the wall and getting her TEMPTATIONS™ Snacky Mouse to submit to her will.
In case you haven't seen the TEMPTATIONS™ Snacky Mouse in action, you're in for a treat (ha ha!).
<iframe width="560" height="315" src="https://www.youtube.com/embed/8DII2IRo9Yw" frameborder="0" allowfullscreen></iframe>
We love Lucy's happy spirit. That bonding time with the cats is special to all of us, but I also know that cats love their down time.
I recently did a fun little DIY craft at my mom's house as a special treat for her cats. This easy homemade cat tent gives your cat their own little cove of solitude where he or she can feel safe and comfy between play sessions.
Full instructions for this DIY cat tent can be found at the bottom of the post. Note, my attempt is modified just slightly from the fantastic original tutorial which you can find at Instructables.
What I love about this craft is that you can make it using items that you already have around the house.
It really warms my heart to see Lucy loving her life so thoroughly. She actually showed up on my parents' doorstep in the middle of winter a few years ago.
After searching for her owner to no avail, my mom and dad decided to bring her inside and make her a part of the family. She melted everyone's hearts immediately and she's been a part of the family ever since.
After we finished the DIY cat tent, Lucy was a little hesitant to check it out. We decided to sweeten the experience for her by placing a few of her favorite TEMPTATIONS™ Creamy Dairy Flavored Treats inside.
Needless to say, that did the trick!
Punkin and Lucy Love TEMPTATIONS™ Treats. I assume it has a lot to do with their crunchy texture on the outside and their soft, meaty middle. The brand continues to offer a wide variety of different flavor combinations that will satisfy the most finicky of felines. I know Lucy loves the Creamy Dairy Flavor and Punkin prefers the Tasty Chicken and Turkey.
As I mentioned above, if you haven't picked one up yet you HAVE to try the TEMPTATIONS™ Snacky Mouse. Just fill up your TEMPTATIONS SNACKY MOUSE™ Toy with your choice of TEMPTATIONS™ treats and watch your cat's natural instincts unfold!
It is so rewarding when you take a little time to treat your cat. Whether it's with a special DIY cat tent, play time with a new toy or even just a few of their favorite treats. Each of those little acts make your cat feel loved and that's what being a pet owner is all about.
What simple steps do you take to treat your cat?
STATS 22

@님냥
2016.07.24 08:49
대장이다옹
BACK TO LIST
인기갤러리시작
인기갤러리끝 추천핀 시작