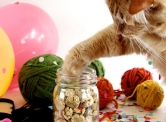 Usually we only do human food on the column, but in honor of this month's pets and family theme, we are bringing you a cat treat recipe by Joy the Baker. I am pretty sure humans can eat this, too. Hey, they're gluten-free! Though maybe without the catnip . . . but I'll leave that to your discretion! These homemade treats for cats are healthy and a crowd pleaser, as you can tell from the photo. If you don't have a cat, they would make a great gift for any friends with cats and probably dogs because I'm pretty sure my dog would eat these! — Kristina
About Joy: Joy Wilson is the voice behind the popular blog,JoytheBaker.com. She is a baker, food photographer, writer and curator of all things sweet. Since beginning her website five years ago, JoytheBaker.com has been named one of the 50 Best Food Blogs by theLondon Times, Eight of the Very Best Food Blogs by Forbes and the Best Baking Blog by Saveur. Joy's first cookbook, the Joy the Baker Cookbook, is an unabashed celebration of butter and sugar. Joy is also co-creator ofHomefries.com, a growing site dedicated to lifestyle audio and video podcasts. Joy lives in Venice, California, with her monstrous cat, Jules, an admirable collection of nail polish and a refrigerator full of butter.
See how to make your own cat treats after the jump . . .
Crunchy Tuna Cat Treats
Makes about 3 dozen treats
1 (5 ounce) can tuna, no salt added and packed in water, drained
1 cup oat flour*
1 large egg
1 tablespoon olive oil
1 heaping tablespoon dried catnip
*It's easy to make your own oat flour. Simply grind old-fashioned oats in a spice grinder (or a super clean coffee grinder) until it is transformed into a light powder. There you have it — oat flour!
1. Place a rack in the upper third of the oven and preheat oven to 350 degrees F. Line a baking sheet with parchment paper and set aside.
2. In the bowl of a food processor fitted with a blade attachment, combine drained tuna, oat flour, egg, olive oil and catnip. Blend until mixture is smooth. It will be thick but pliable and not terribly sticky.
3. Roll dough into 1/2 teaspoon balls and place on prepared cookie sheet. Use a skewer to press an X-shape into each cookie ball.
4. Bake cookies for 10 to 12 minutes until they are dried on top and slightly browned. Allow to cool completely before offering to your kitty.
5. Place treats in an airtight container and store in the refrigerator for up to seven days.
Photos and Recipe: Joy Wilson
Styling Assistance: Paola Parsons
Cat Credit: His name is Jules, but I call him TRON because TRON is a more appropriate name for the monster that he is.
Why Joy Loves Making These Treats for Jules, aka Tron
As much as my cat begs for a bite of my burrito, I know that my cat shouldn't eat like I do. Their systems don't know what to do with black beans and flour tortillas. These crunchy cat treats honor the simple, meat-driven diet that helps my cat thrive. Tuna is a simple, salt-free protein, and oat flour is easier on the system than corn or wheat-based thickeners. My cat looses his mind for catnip, and just a sprinkling in each treat seals the deal. Really though, I had my cat's attention as soon as I opened the can of tuna.
STATS 22

@님냥
2016.07.24 09:33
대장이다옹
BACK TO LIST
인기갤러리시작
인기갤러리끝 추천핀 시작